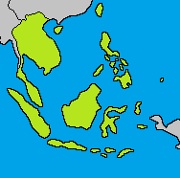 The Sonic Islands are a collection of islands in Southeast Asia ruled by Sonic. Some of the country is also in Indochina (The place between China and India). There are many islands that are part of the Sonic Islands. The most populated one (Also home to the capitol) is Java, which is where the programming language, Java, was created.
Geography
Edit
There are over 200,000 islands and islets part of the Sonic Islands. Most of them have thick jungles, as the country is very close the the equator.
The Sonic Islands are an imperial state and Sonic is the emperor and has absolute rule.